The Tallaght Horse Aware Week, the 24th to 29th September, is part of an initiative where FYHP is working with a number of Horse Welfare Groups as part of the Dublin Region Horse Welfare Working Group – Education Task Group*. The aim of the group is to educate children about responsible horse ownership and the issues/needs of urban horses.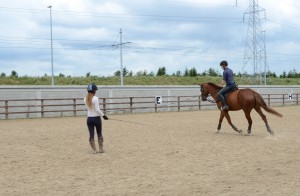 The Tallaght Horse Aware Week will involve a series of presentations in a number of primary and secondary schools in the area and will culminate in an Open Day at the Fettercairn Youth Horse Project on Saturday 29th September. It is hoped that we will visit 10 schools with our presentation highlighting the importance of responsible horse ownership. This event is supported by South Dublin County Council.
The Open day, at the Fettercairn Youth Horse Project on Saturday 29th September from 11.00am to 3.00pm for anyone interested in horses, will be a free ticket event and have different speakers from RACE, Army Equitation School, Garda Mounted unit, UCD vets. There will be lots of opportunity to get information in relation to equine training and about careers in the equine industry. A schedule of events will be confirmed, keep an eye on the FYHP facebook page and website for any updates.
The entry is free of charge to the Open Day but all attendees must register first . To book your place click on link below
https://www.eventbrite.ie/e/fettercairn-youth-horse-project…
*This Group includes the IHWT (Irish Horse Welfare Trust), FYHP (Fettercairn Youth Horse Project), Clondalkin EC (Equine Centre), Cherry Orchard EC (Equine Centre), UCD School of Veterinary Medicine & representatives from the Dublin Councils and Department of Agriculture Food & the Marine.