The FYHP Newsletter 2019 has been launched.The Newsletter records all of the events in the Fettercairn Youth Horse Project over the last year. It is well worth a look and we hope that you will enjoy it.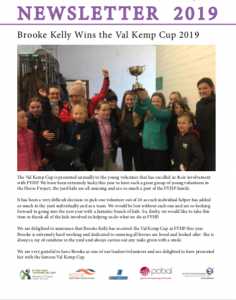 While, like many community based projects countrywide, FYHP has faced a serious challenge in the major increase in our insurance premium, there have been many positive initiatives in the Horse Project in 2019; these include a new Animal Welfare Programme with the involvement of Tallaght Travellers CDP and Tallaght Traveller Youth Service, a Research Programme undertaken by a Senior Occupational Therapist with the HSE in Tallaght, attendance at the South Dublin County Volunteer Fair in September and the winner of the Val Kemp Cup for 2019.
FYHP would like to wish all of our members, volunteers, clients, supporters, funders and all a "Happy and Peaceful Christmas and a Great New Year". We look forward to seeing you in 2020.
Lessons will resume on Tuesday the 7th of January 2020.