The contribution made by the Deloitte Impact Day in the Fettercairn Youth Horse Project was impressive.
While the weather was poor to start, it cleared before too long. The staff performed the onerous work of removing ragworth and dock in the two paddocks. This is just the type of activity that requires large numbers and the forty Deloitte staff did Trojan work. The more artistically minded helped brighten the stables by painting the stable doors and also by painting the show-jumping poles.
The poles will be using for our annual Show-jumping event being held on Sunday 18th of September 2016. To cap it all, all of the arena and the external wooden fencing were given a coating of preservative that will extend its lifespan.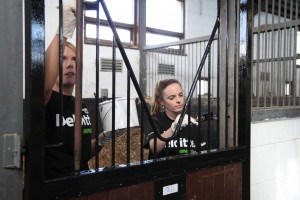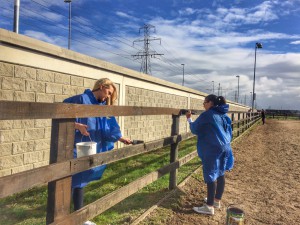 A full and hard days work but everyone enjoyed themselves. The staff really created a lovely atmosphere as well as contributing so much to FYHP by their work. Their initiative is part of Deloitte's Corporate Social Responsibility programme. The staff and Board of FYHP would like to say a big "Thank You" to Deloitte and their staff for choosing the Fettercairn Youth Horse Project.