The Fettercairn Youth Horse Project were delighted to award the Val Kemp Cup to Abigail Williams for "The Most Improved Member of the FYHP" this year.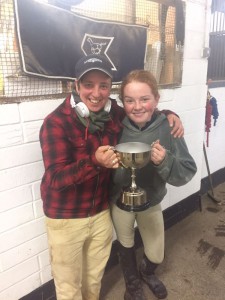 Abi has been awarded the FYHP Val Kemp cup for her extremely hard work and her dedication to volunteering her time to help out at the Horse Project. She takes every opportunity to come to FYHP including school holidays and at the weekends. Abi has a constant smile on her face and is an absolute pleasure to have around the yard. She is improving all the time and we would be lost without her.
The Val Kemp Commemoration Cup was donated to the Horse Project in 2013 following the death of Val in February of that year. Val had become involved with Fettercairn as the stables became operational in 2001. She brought great equine knowledge, skills and depth of experience and was a tremendous resource to the Project. It was envisaged by the benefactor that the cup would be awarded to "the most improved local rider in the year" towards the end of each year.