FYHP are delighted to announce the successful recruitment of essential staff in the Horse Project.
Aisling Twomey has been appointed as the new full-time Equitation
and Training Service Manager and Ciara Greaney has been appointed as the part-time Riding Instructor. Both have substantial equine experience and skills, see brief biographies below, and they are hugely enthusiastic about the potential of the Horse Project for Fettercairn. FYHP are thrilled that they have joined the team in South Dublin's only community based horse riding centre.
Aisling Twomey, FYHP Equitation and Training Service Manager: Ash comes from a background of teaching both mainstream and therapeutic lessons, along with the training of BHSAI students. She has over twelve years of equine experience having worked in South Africa and Ireland (including Boswells and Equestrian Wexford). She is "very excited about having the opportunity to work with Fettercairn and the surrounding community to make sure we provide the best of experience and education for both horse and riders".
Ciara Greaney, FYHP part-time Riding Instructor: Ciara has worked in the equine world since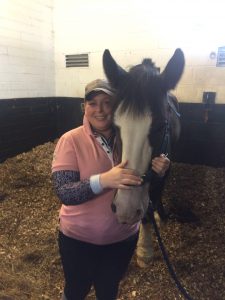 2011. She is a BHS accredited coach and enjoys teaching both children and adults of varying abilities. Having managed a large equestrian centre for over two years, she is ideally suited to the join the Horse Project.